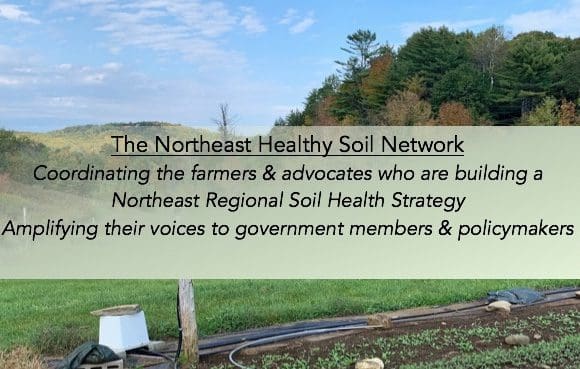 3rd Symposium of the Northeast Healthy Soil Network [NEHSN] (USA)
"Transitioning to More Regenerative Practices in the Northeast: Towards Inclusive and Fair Compensation for Farmers and Other Soil Health Stewards"
Date: 16-17 March 2023
Location:
– Thursday 16 March (day 1): on-line webinar
– Friday 17 March (day 2): in-Person on the Campus of the University of New Hampshire, Durham (UNH: University of New Hampshire)
Organizers & Supporters:
Food Solutions New England (What We Do – Food Solutions New England)
The University of New Hampshire, Durham (UNH: University of New Hampshire)
The NOFA Northeast Organic Farming Association, New Jersey, USA (Northeast Organic Farming Association – The Northeast Organic Farming Association is a non-profit organization of over 5,000 farmers, gardeners, landscape professionals and consumers working to promote healthy food, organic farming practices and a cleaner environment. NOFA has chapters in Connecticut, Massachusetts, New Hampshire, New Jersey, New York, Rhode Island and Vermont.)
Tufts University, Massachusetts, USA (Tufts University) through the GDAE Global Development and Environment Institute (GDAE Overview – Global Development And Environment Institute (tufts.edu))
The Dartmouth College (Dartmouth | Dartmouth)
The University of Vermont, through the Gund Institute for Environment, through the Northeast Healthy Soils Network (Northeast Healthy Soils Network: Measuring Healthy Soils & Ecological Outcomes (uvm.edu))
The Consulate of France in Boston
With the support of NEHSN's international partners:
Un consorcio de instituciones de investigación y defensa de los agricultores se ha unido bajo el lema de la Red de Suelos Saludables del Noreste (NEHSN, por sus siglas en inglés) para organizar el tercer Simposio de Suelos Saludables de NEHSN en el noreste de los Estados Unidos. NEHSN nació de una iniciativa de 2018 del Instituto de Desarrollo y Medio Ambiente Global de la Universidad de Tufts, que realiza investigaciones interdisciplinarias con un enfoque en factores ecológicos, culturales, sociales e institucionales.
Este evento está organizado por Food Solutions New England, UNH, NOFA-NH, Tufts (GDAE) y Dartmouth College con el apoyo de los socios internacionales de NEHSN: la Iniciativa "4 por 1000" y el Ministerio de Agricultura y Soberanía Alimentaria de Francia.
Los principales objetivos del Simposio 2023 son: rejuvenecer y reactivar la red en el período posterior a la pandemia, realinear los objetivos de la política regional a la luz de la Ley Agrícola de 2023, la financiación del Plan de Reducción de la Inflación y los subsidios para productos climáticamente inteligentes, y lanzar un plan para solidificar la red con reuniones bianuales junto con nuestras crecientes asociaciones con universidades, ONG y partes interesadas del gobierno.
Para registrarse, haga clic aqui.